Photos represent generations of memories. They capture tears, laughter, milestones, and celebrations. Moments we want to cherish forever. Are your memories safe?
Organization of your print and digital pictures can bring you peace of mind, because we all know it can be overwhelming to gather and sort years of pictures. The Proper Place will help organize your photos so your loved ones can enjoy them for generations to come. You will feel confident when your photos are safe and easily accessible.
Photo Organization Services
Scan photos & convert media to digital

Backup images online for permanent storage

Sort digital photos into one location

Organize printed photos for safe storage
Preserve the memories and stories of your legacy

Feel confident your photos are accessible

Cherish your memories!
Forever is a one of a kind company that The Proper Place works with to convert printed media into digital formats and online cloud storage.
Valuable Options with Forever
Converts all media types into digital formats

Stores images online with bank level security [other photo storage sites may allow your photos to come up in generic web searches]

Allows you to share images with family and friends in full resolutions

Has search capabilities for finding and documenting the story of the image [ie: albums, tags]
Auto uploads photos from phone camera roll to online account

Offers tools to make online photo projects with images

Will be accessible forever, because you own the online real estate
If you'd like to utilize Forever's features, contact Michelle for support.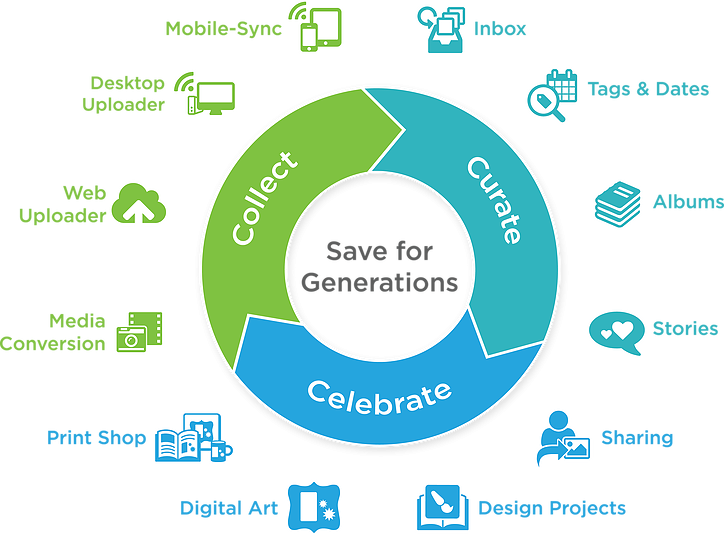 Learn more about Forever's reputation here.
Contact Michelle if you would like support to get your print and digital photos to a place where you can enjoy them for years to come!