Transition from school life to summer life with a little organization and intentionality. Enjoy summer how you choose to experience it.
Most of my memories come from the summer months: lazy days by the pool, sleepovers, camps, and family vacation. So many exciting activities. But I also clearly remember my mom made sure we stayed level headed by giving us responsibility. [which at the time seemed like a total bummer!] The first weekend after school got out, I'd wake up to a list of chores or closet purging we needed to accomplish before being able to visit friends. I remember my grandpa made note cards with verses on them to memorize with the reward of a twenty-dollar bill at the end of the summer for those we could recite.
Looking back, those loose strategies were helpful in my growth between school years. I was an anxious kid, and a little structure helped me feel more grounded amongst the summer fun. I'm thankful to have family who made the effort to keep me moving forward even in the "off months."
What's your idea of summer success for your family? The transition from school to summer is a hard balance, though with intentionality, you can start the summer with purpose the way you choose.
Wrap up school completely
Before you dive into summer fun, close the door on school completely. Take the first week of summer to get all the projects and papers the kids brought home put away. I recommend you keep 3-6 items per school year per child for memories, and discard the rest. Taking a picture is a great way to capture the memory of odd shaped projects and treasures that are hard to part with.
Empty backpacks, put away lunch boxes, and clean out the mudroom bins or closets that were purposed for school prep so they are functional for the summer schedule.
Start with a fresh slate
In addition to getting the kids school items settled, you [mom] need to also have a purging of your school related items. Purge the bulletin board or common area of outdated school schedules, calendars, and reminders. Start a folder for the papers and forms that are already coming in for the next school year so they are contained and you know where to grab them when needed.
Plan for structure vs free time
Summer is an amazing time for staying up late and having less structure to your days. Lazy mornings and outings to the pool create memories for summer break. But, structure can help the summer have some sanity mixed in with the excitement. Most kids need structure to have days that are moving them forward and not full of melt downs. Different kids [and mom's] need structure for different reasons, some ideas include: visible calendar so everyone knows what's planned for the week, planned activities [in or out of the house], educational activities to keep the minds fresh, reading charts for summer goals, house project for the summer to work on each week, weekly/daily chores, set bed times certain days of the week, bedroom clean outs, etc. Click here for more ideas on a successful summer plan.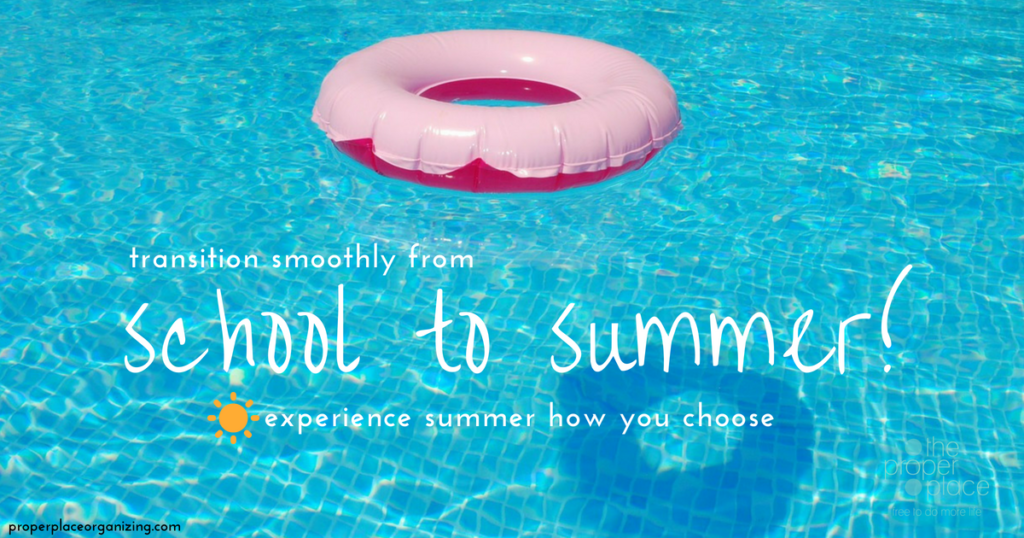 Create a summer zone
The items you are using daily in the summer should be accessible and contained in one area. Keep sunscreen, bug spray, and other frequently grabbed items in a bin by the back door and/or in a bag to grab when you head out the door to the pool. Create a place so they are easy to find and keep stocked as needed. Have the outside toys in bins or crates so kids can easily pick items up before the lawn gets mowed.
Find a balance
Every household has a different definition of balance in the summer, as well as a different definition of what summer days look like. The key is that there is a balance of fun and reality. Find the balance, choose to create the balance, and enjoy your transition into summer time! Experience summer how you choose.