In the sports world, the coach is the athlete's biggest fan. They are showing up for practice alongside you, guiding you, and not letting you give up on yourself. They help you see how much skill you have and are focused on your personal growth. You can't win the game if only the coach shows up. It's about supporting you so you can proudly put on your uniform and go in for the win.
Sports coaches are a lot like personal growth coaches. I'm an Organizer Coach and I want you to win at life.
When I'm standing in the closet with a client and we pull down a box off the shelf and she gives a long sigh, "ugh, I knew this was up here." It's a box of memories and photos that have been stashed for years, and avoided for years. She takes a deep breath and says "let's do that box another day."
I push her with a simple question: "what would it look like to have this box completely sorted through?"
I bet you have boxes like that, or maybe a whole room. The areas that we avoid looking at. They may not get in our way day to day, but when we remember that box, or those boxes, are looming on the shelf, it reminds us of the extra weight on our shoulders.
Once these boxes are dealt with, life will seem lighter. Life will be lighter.
If it's not boxes for you, maybe it's the feeling that you are busy all day and don't get anything accomplished. Or you just don't feel like you're good enough to be the wife and homemaker you were created to be.
These areas in our homes, schedules, and minds keep us from loving our space and loving ourselves. They weigh us down, even if only subconsciously. You don't know what to do. You feel stuck.
This is what the power of coaching can do for you. You're stuck. And coaching helps you move forward. It gets you un-stuck. It offers you a way to deal with situations from an angle you may not have otherwise seen. It helps to lift the weight of those stuck places so you can move forward. Freely.
Coaching creates awareness and opens up doors to new possibilities in your life. Insight leads to awareness. Awareness leads to action. Action leads to change!
It may start with wanting more order, but really it's about wellness and being the best form of you.
Benefits of coaching:
a tool to create your desired lifestyle in home + life
develop solutions for making your life easier
maximizes your personal potential
offers a new way of reaching your goals
provide ways to make decisions
empower you to take action
inspires creative ways of thinking
more long term success at new habits
give clarity to where you're at and where you want to go
you have a partner along the way
What coaching is not:
advising or training
being told what to do
a place to unload all your problems
therapy
It's not that complicated. Coaching gives you a means to create a life that fits for you. It looks different for everyone, because life is different for every family.
What do you want your life to look like?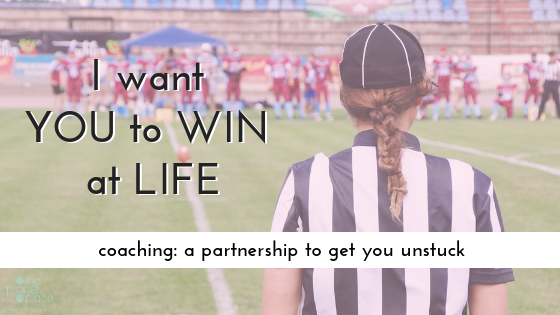 ---
Would you like to build or reestablish a life that fits for you? The Proper Place would be honored to support you in that journey. Call or email today to start the conversation of how we could best partner together to give you the life that you desire. mk@properplaceorganizing.com or 602-697-5966
Find more information about services here.