Eliminating clutter one day at a time. Join in on the SEVEN day summer challenge to eliminate a little of your clutter this summer. Conquer one challenge a day. It will take you less than 20 minutes per challenge and set you in motion to begin thinking clutter-free. TIP: Set the timer if you need help staying focused for those 20 minutes.
Challenge/Day #1: Identify and put away TEN items that are sitting out on your counter or floors that never typically get put away in their proper place. If you don't have a place for the item(s), create a home that is accessible and near the location it's used the most. TIP: keep in mind that if it takes more than two steps to get to an item that is used often (i.e. taking a lid off or moving something that's in front of it), you'll most likely never put it away.
Challenge/Day #2: Go through kitchen cupboards and drawers and eliminate ELEVEN items –utensils, small appliances, serving trays, gadgets, whatever — that you haven't used in over a year. If you can't find 11 things (which I bet you can!) then look at your spices and see what's expired. Donate or give the items away. TIP: find a box or bin and label it "donate," you'll have more items to put in it this week and then you can make one trip to the thrift store. You should always keep a donate box around so you don't put items back in the drawer you know you're never going to use.
Challenge/Day #3:  Look under your sinks in the bathroom and/or kitchen and dispose of TWELVE items that are outdated or no longer used. Cleaners, buckets, hair products, etc. Dispose or donate. TIP: of you want to go the extra mile, instead of just looking for items to get rid of, pull everything out, wipe down the cabinet, and only out back in the items you actually use.
Challenge/Day #4: Go through your closet and find THIRTEEN items to get rid of. If you have all current clothes in your closet, then sort through your accessories, jewelry or bedroom to find items. Sell or donate. TIP: Your summer attire should be at the front of the closet. And if you have an item you don't want to part with because it provokes good memories, then put it in a keepsakes box, don't keep it in your bedroom/closet to take up space.
Challenge/Day #5: From your file drawer or countertop piles, pull out FOURTEEN papers you no longer need and throw them out. If this is easy for you, then find 14 papers that need to be filed and file them. TIP: Have a folder or message board where you can store temporary papers that you need to refer to often. These are the papers that create clutter because they don't require a place long term (i.e. sports schedules, camp supply list, school lunch menu, etc).
Challenge/Day #6: In your pantry, pull out FIFTEEN food items that are expired or that have been sitting on the shelf for over a year. Throw out or donate. If you don't find 15 in the pantry/cupboards, look in the fridge. There is sure to be expired dressings or veggies to toss. TIP: Use turn table for awkward corner cabinets and wash your veggies when you unpack your groceries so they are ready to use when dinner time arrives.
Challenge/Day #7 – Delete SIXTEEN digital photos, files, or emails off your phone or computer that you no longer need. The technological side of organizing is a whole niche in its self. Starting to notice the files you do and don't need cluttering up your desktop/phone will help you to start thinking about keeping it "clean" in aspects of life that aren't always visible. TIP: Categorize digital files into folders with the same type of categories as you do for your paper files. Consistency makes finding any type of file is more intuitive. (i.e. – by category, date, etc)
Comment if you took the challenge, and feel free to share if which day(s) were easy or difficult for you! Forward to a friend who could benefit from a quick organizing challenge, as well. Transformation begins with small steps!
[NOTE: The Summer Challenge was originally designed to start on the 10th of the month so you could remember how many items to eliminate each day based on the date, but you can start it at anytime you're motivated to get more organized! Example: On the 10th, you're challenged to eliminate or sort through 10 things in a certain area of the home, on the 11th, 11 things in a different area, the 12th, 12 things, etc. through the 16th. But the date doesn't really matter to cleaning your clutter, just get started today!]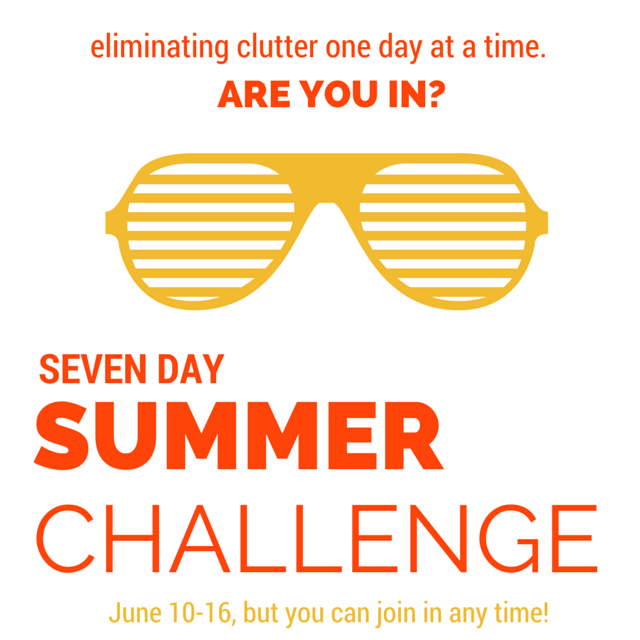 Posted 6.17.2015