I am the wife of a hard working farmer and in the spring and fall our workforce can swell up to 10-15 men. On the days they work into the evenings, we bring prepared supper to the field so they can eat and then keep on plowing those fields.
Side note, ten years ago had you told me I'd be making meals for farmers, I would have thought you were crazy! but God had a good laugh when I made my first casserole.
Initial credit goes to my mother-in-law who also helps to bring meals and is the 2nd generation housewife of this homestead. (Grandma being number 1!) She has been cooking and bringing meals for decades. So, the main concepts are credited to her hard work, skilled efficiencies, and leadership.
How to feed so many men AND keep it warm
Supplies
I recommend buying the styrofoam containers that have three sections and pre-wrapped plastic utensils. Don't get the recycled or "green" containers that are paper, because they absorb all the moisture and get soggy. (I learned that the hard way!) Have plastic cups for a beverage or bottles of water. Prepping the meals into the styrofoam containers allows you to quickly hand out the meals individually. Less dishes to have to bring ot the field!
Plan the Menu
Determine your menu in advanced. Making less trips to town for last minute items saves you time and money. Plan ahead! Prepping ahead is the ideal way to do it — hough fellow farm wives know that sometimes you only have hours or minutes notice to prep a meal. Since you won't always have time to prep ahead, be sure to have a meal or two on hand that require nonperishable and frozen items. That way you are always prepared to at least throw something together in less than an hour. Like a pasta bake, ham buns, chili, etc. Plan to include a meat, starch, and vegetable.
Main dish. I was raised in the city, so I'm not really a cheesy casserole kind of gal. Don't get me wrong, they taste amazing, but my conscious has a hard time over looking the calorie and health factor. That being said, I find casseroles are really the best. They stay hot longer and make serving up the portions more manageable. Something like a chicken breast isn't ideal because it doesn't stay hot very long, plus, it's hard for the farmers to cut up. Meat on a bun works if it's toasted. I think the meat makes the bun soggy if  it sits too long. But I know other farm wives who only serve food on buns! So it's up to what works for you.
A great tip is to make something that includes your meat, veggie, and starch all in one (or at least a combo of two). My mother-in-law makes Hobo Dinners where it's all baked in a little aluminum foil pouch and those stay hot for hours. (see below for more ideas)
For the vegetable, any of your favorites will do. Unless you bake the veggie into a casserole, I haven't found a veggie that stays hot for very long. Sorry guys! Baked cinnamon apples or applesauce is always a good add on if you need something extra to fill the container.
For the starch, again, bake into the casserole, or, a baked potato in tin foil stays warm (include at least a lump of butter, yes?). Twice baked mashed potatoes because you can bake them till they are really hot. Fries or hash-browns don't stay warm and get soft. A bread or roll is great add in (pre-butter it for them).
As for dessert, the standard was set years before I was a part of the family, that dessert is essentially required each night. But it can be as simple as cookies or as complicated as apple crisp. If it's something that has to be served, pre-portion it in to little cups/plates so you can hand it out individually with the containers. If you want to really impress them, when I pre-portion out cake or pudding with cool whip, I'll sometimes cut up strawberries to put on top for added flare. For some reason when they see that, they think it's an extra fancy dessert. Reality is that I probably forgot about dessert! So I quick mixed a box of instant pudding with milk, added cool whip, and wanted it to seem like I didn't forget, so cut up fruit toppings! I guess it's true that presentation is everything! And a reminder that having some extra non-perishable items, even for dessert, helps in a pinch!
Deliver to the Field
Once you've got your menu prepped, groceries purchased, and food cooked, it's time to prep for delivery. Find out how many people need to be fed. Line up that number of styrofoam containers on your counter and fill them with food. It's an assembly line of estimating portions. It can be a challenge to be sure you divide it evenly and have enough to go around, but you'll learn through experience. I'm still learning! It's like feeding the 5,000…somehow it always can be divided enough to work out. And no one goes home hungry.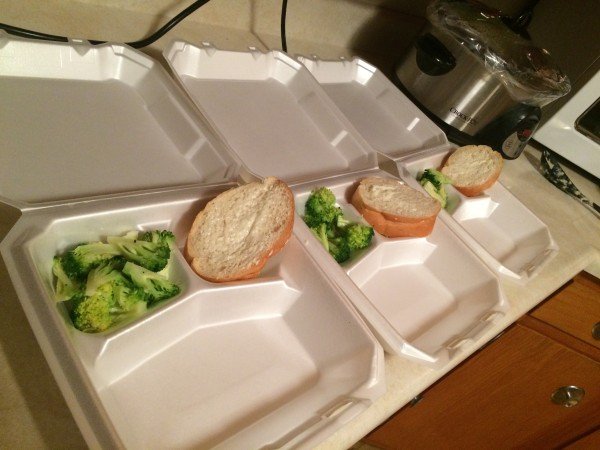 Once you have the containers filled, close them up and put them in coolers or insulated bags to help keep them warm. If you don't have coolers you can wrap them in towels. Count out plastic cups and pre-wrapped utensils for as many men as you have to feed. Put those in the box. In a separate cooler, have beverages of choice. In our operation they prefer milk or bottled water.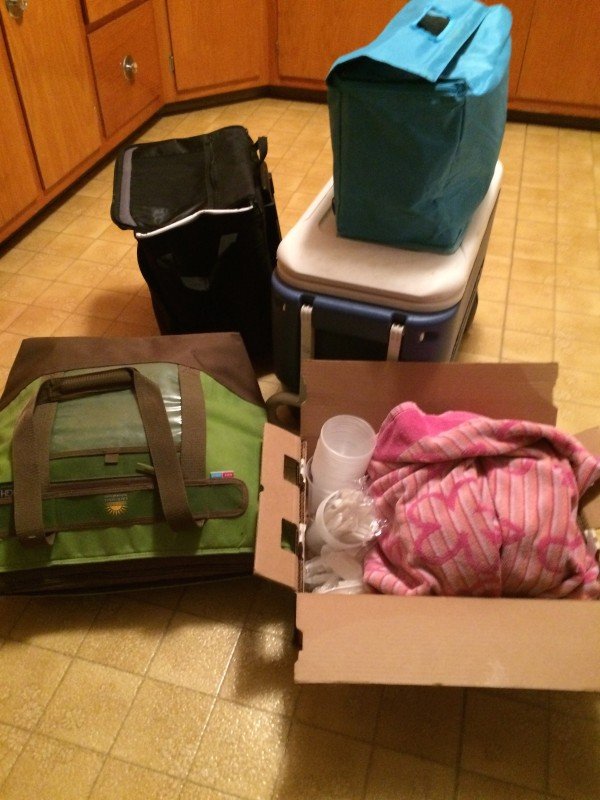 And your on the road!
From experience, be sure you have the stove and oven turned off, leave the messy kitchen behind, load up the back of your vehicle with the coolers and head on out to the field or meeting point. This part I feel like is a mad rush to get the vehicle loaded and deliver hoping it will still be warm by the time I reach them.
The men are thankful to have a hot, homemade meal and it adds a sense of appreciation to your operation.
Clean up
When you get back to the house after delivery, you will have a mess of a kitchen to clean up. But it's all part of a good day of hard working women supporting their crew! And let's face it, the men do the hard work that gets seen by the world, but the women are doing the hard work that often goes unnoticed.
It takes a village to get the crop in and out of the field! Thanks for working hard, ladies!
Meal ideas:
Ham and Hashbrown Casserole
BBQ Beef Pasta Bake
Baked Spaghetti
Beef Hobo Dinners
Beef Stroganoff
Chili
Philly Cheesesteaks
Ham, Potato, Broccoli Casserole
Pizza Rolls
Roast and Potatoes
TaterTot Casserole
Sloppy Joe (tavern) – beware the bun may get soggy
Hot Ham and Cheese Buns
Panini Sandwich
Enchiladas/Burritos
Hot Beef
Meatloaf
Follow The Proper Place Country Grub Pinterest board.
Other ideas? I'm always looking for more to add to my file.
---
TAKE ACTION:
What can you adjust to be more prepared for feeding an army of farmers? Whether you feed two guys or twenty, being prepared can save you time, money, and mental clutter. Make a list of meal ideas and the groceries you'd need to buy. Save the list to re-use for next season. (digitally or electronically)
Need more support? Michelle Kuiken, Organizer Coach, helps farm wives alleviate the overwhelm to be productive and balance. Contact Michelle to be your guide toward a more peaceful household here or schedule a free introductory call here.