My inspiration behind writing the workbook, Organizing with Intention.
Years ago I had a vision of helping women love their lives. Love themselves. I looked around and saw women who were offering so much of themselves to their families and communities, yet they never had anything left for themselves. Usually, the "extra" energy went back into managing schedules and the household so they could plow through another day.
I started The Proper Place with the mission to help women stop the feeling of survival and start moving toward simplicity and order. I wanted them to have the tools to manage their lives in a way that felt light and possible. As my business motto states, I wanted them to be free to do more life.
Inspired to help more
I've traveled the journey toward more order alongside women for five and a half years. As I guided women, each one had their own story and their own challenges. But, I started to see a pattern of stumbling blocks in each household – knowing where to start, making choices, understanding what's really getting in the way.
When I started to piece the patterns together, I had the desire to help more women. I wanted to empower women who were beyond driving distance. I started compiling my processes and the methods started taking shape into a guide that I could share with other people. I started using the methods I developed in client coaching sessions and the resources were working! Women were discovering relief without me physically standing by their side.
I took a huge leap of faith, and spent a lot of hours in front of the computer, putting together the resources and field research. I complied the information into a guide that would transform the way women organize their home and life. In October 2019 I released my workbook: Organizing with Intention. Yay!!!!
Why intention?
I grasped onto the word "intention" because I discovered it to be a lifestyle, not a one time concept. Living with intention adds order to our days and ensures we are living life the way we desire. If we make choices and actions with intention, our life will be moving in the direction we choose (rather than life just happening to us). It's a mindset and a way of life: being an intentionalist.
The main concept of the workbook
This workbook helps women identify the roles in their life that require them to be productive. It breaks down those roles to identify the challenges that are getting in the way. Throughout the workbook the user will explore one of the challenges and reflect on how to best make choices, take action, and keep the momentum going forward.
We are all different, It's about you
Everyone organizes and functions differently. We all have different strengths and challenges and organizing methods are not one-size-fits-all. This workbook stands out from other organizing books because it allows you to create a plan that will work best based on where you are starting, how you operate best, and where you want to go.
Organizing isn't a one-time thing. (Unfortunately!) It's not a destination, but a journey. And looking at organizing through the lens of being an intentionalist can help us to see organizing as an active journey rather than a trip we dread taking every ten years.
This workbook is designed to help you take a personalized journey of organization with intention and self-reflection. May it meet you where you are at and give you the guidance to move toward more order, and be free to do more life.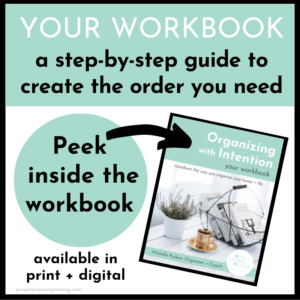 Is this workbook for me?
This workbook is for you if:
you're discouraged by never accomplishing the organizing projects you start

you are frustrated because the organizing you do quickly reverts back to a mess

you have a hard time making choices and knowing where to start

you feel like you should be able to organize on your own, but it never happens

you feel stuck and don't know how to move forward
How will it help me?
This workbook will give you the tools to conquer an organizing project on your own and have the energy to maintain the space going forward. It will provide you:
clear direction on where to start

action steps to take

key ways to make hard choices

how to keep the momentum going

Design a plan that works for you!
Want More?
Learn more and take a sneak peek at this link: bit.ly/iwantmoreorder and read what others are saying about the impact the workbook has had on their organizing journey.
---
Take Action:
Are you intrigued by this workbook? Do you want more order? It's possible for you! If you have questions about the workbook or want to talk with the author, Michelle Kuiken, please reach out through the contact form.
Learn about other services offered, here. Don't wait until tomorrow, commit to getting started today!